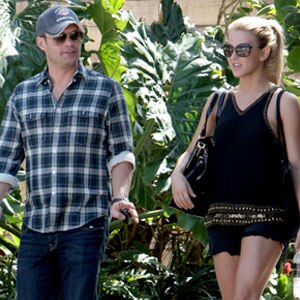 EVA/bauergriffinonline.com
Our pal Ryan Seacrest gave us plenty to talk about today, and the briefest hint about what's been going on between him and Julianne Hough.
During an onair conversation with Ellen DeGeneres about interviewing Lady Gaga in the meat dress, leaving American Idol and loving Portia de Rossi, Seacrest reluctantly revealed some personal dating deets today on his radio show, even while claiming, "This makes me uncomfortable."
After Ellen described how her feelings for de Rossi grow stronger every day, Seacrest slyly shared, "I love that feeling, and I know what that feeling might be like."
And that was all it took for DeGeneres and Ryan's cohost Ellen K. to press him for more, so Ryan reluctantly elaborated.
"She's great," he said, never actually naming Hough. "This one's even better than you could build if you went to a factory to build one."
Aww, we totally believe him...and hope he'll let us know where that factory is.